Sump Pump Repair and Installation Services
If you're a homeowner or commercial property owner in Hartford County, CT, then it's really important for you to know how a sump pump can protect your property. Anyone who has lived in New England for more than a month knows that weather here can be unpredictable. You can wake up to frost in the morning, enjoy temperatures in the '70s during the day, and be faced with torrential downpours on the commute home.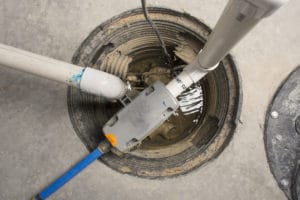 Combined with the fact that melting snow and excessive rains can saturate the ground in the springtime, the simple truth is that your property is vulnerable to flooding. This is exactly the reason why you need to have a properly working sump pump on your side to protect your property.
The thing is, a property's foundation is always below ground level, and often, the basement floor is, too. Unless your properly is waterproofed with a good sump pump, excess water will collect in your basement and foundation. However, if you install a sump pump at the lowest point in your basement, it switches on automatically when the water reaches a certain level and simply pumps the water away from the home. Having a sump pump means your basement won't flood, and you won't incur thousands of dollars in water damage!
Features of Our Sump Pump Services in Kensington, CT
Here at Riley Plumbing & Heating, we have a team of Master Plumbers who are experienced at sump pump maintenance, installation, repair and replacement in residential or commercial buildings in the Hartford County, CT area. Features of our professional sump pump services include:
Safe, reliable, and up-to-code installations and repairs
Your choice of a range of durable sump pumps
Basement preparation for new sump pump installation
Battery backups for electric sump pumps
Objective advice on the best solution for your situation
Upfront and transparent pricing
Warranties on labor and parts
Benefits of Our Sump Pump Services in Hartford County, CT
When you choose Riley Plumbing & Heating for your sump pump installation, maintenance, replacement, and repair, you're choosing a plumbing partner who will work with you to proactively provide the best care for your residential or commercial property. Regardless of whether you're a first-time homeowner with a newly constructed home, or the spokesperson for a condo management board that needs to upgrade its basement waterproofing, our team of professionals is always looking out for your best interests. There are many benefits to using our dependable sump pump services. You'll receive:
Full waterproofing of your property's basement
Prevention of mold and mildew growth that could damage your home and pose a health hazard
Added value to your property
A reduced risk of electrical fires that can result from flooding
Top-rated plumbing work and customer service!
Learn More About How Riley Plumbing & Heating Can Help Protect Your Property Today!
Our company offers a variety of plumbing services including: bathroom plumbing and kitchen plumbing maintenance, drain cleaning services, sewer line repair, and even leaky faucet services. Don't hesitate, call today!