Your Water Heater Repair and Services
Whether you're a young homeowner with two toddlers who act as dirt magnets, or a seasoned commercial property owner with tenants who expect the best living conditions at all times, there's one thing that's certain: you need to know who to call for professional water heater repair and installation services in the Hartford County, CT area—Riley Plumbing & Heating.
Just imagine: you've been to the park with the kids and they've got mud all over them—even in their hair! Getting them into a nice warm bath with lots of bubbles can be a challenge…but when you open the faucet, all you get is an icy cold stream of water. How's that scenario going to play out?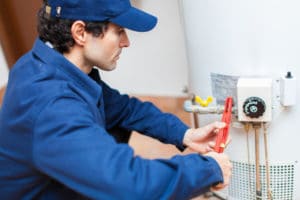 Similarly, how do you think your busy new tenant is going to react when he jumps in the shower at 5.30am—and it's a freezing-cold, "Spartan" experience, to say the least?
You get the picture—and so do we. That's why we're dedicated to providing all of our customers with the best water heater services in the Hartford County, CT area. If you're looking for a replacement gas water heater, we can help!
Features of Our Water Heater Repair and Service
Water heater technology has advanced considerably in the past two decades—and that's precisely why our technicians are not only up to date on all conventional technologies, but also on the most cutting-edge ones. So whether your hot water heater was installed in 1999 and you need one more year out of it before you can invest in a new one, or you're looking at a state-of-the-art, electric bill reducing appliance for new construction, we have the knowledge and expertise to help you. Features of our water heater services include:
• In-depth knowledge of water heater technology from conventional to cutting edge
Cost-effective solutions
All work in accordance with state and local codes and regulations
Up-front and transparent quotes
Warranties on labor and replacement gas water heater parts
Fully stocked trucks
Benefits of Our Water Heater Repair and Service in the Kensington, CT Area
When you call Riley Plumbing & Heating for your water heater services, you get a seasoned, knowledgeable plumbing partner who has your best interests at heart. Benefits of our hot water heater services include:
Objective advice on whether to repair or consider installation of a new system
Full range of top-rated brands
Long term savings on your electric bill with energy-efficient solutions
Tax credits on green water heaters
Enhanced convenience, comfort, and hygiene for your family or tenants
Annual or bi-annual maintenance plans available
Flexible scheduling
Top-rated plumbing work and customer service!
If you're looking for the best and most professional water heater services in the Hartford County, CT area, look no further than Riley Plumbing & Heating. Don't forget, we also offer other quality services, like heating repair, boiler repair services, tankless water heater services, and furnace repair services.
Call us today to schedule an appointment with one of our many experienced plumbing and heating technicians. We look forward to hearing from you!