Top of the Line Boiler Repair Services
During the cold autumn and winter seasons, one of the last things you need is a boiler on the fritz. As the key component to your home's central heating, having a properly functioning boiler is vital to having a home that is warm, comfortable, and safe.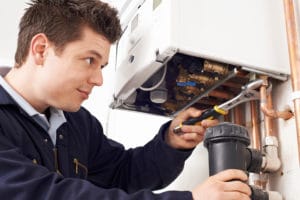 If you and your family ever do need boiler services or repairs, it is essential that you have a team of trained and seasoned professionals who you can trust to take care of the problem promptly and thoroughly. After all, having reliable boiler services is nothing to sneeze at! On the contrary, being a able to call a team that can come out at the moment you need is an invaluable asset for your family's home.
Boiler services and repairs are made easy, thanks to Riley Plumbing & Heating. Boilers are energy efficient with low maintenance needs, but only if they are working correctly. Once there is a problem with these appliances, you'll notice a sudden increase in electricity bills. You also find that the heat generated by the boilers is not up to standard.
A faulty boiler, apart from generating huge utility bills, also poses health hazards. You do not want your family and loved ones exposed to carbon monoxide or from the molds that can result from water leaks. Timely repair and servicing also prolongs the life of the boilers, preserving your investment.
If you find that your boilers in Hartford, CT are not functioning optimally, you should immediately get them repaired through experts like us at Riley Plumbing & Heating.
Boiler Repair Services For All Makes and Models
All our technicians are drug-free, highly skilled, and well trained. They will wear shoe covers to keep your home clean,and will even tidy the work area before they leave. In addition, they will always be courteous to you and your family. You will never be asked for an unnecessary part replacement. We believe in giving you quality service at a reasonable price.
Have a Heating Issue? Call the Pros
In addition to boiler services and repairs, our professional staff of experts also provides:
High-Quality Boiler Repair Starts with Us!
Fast, quality boiler services and repairs, call Riley Plumbing & Heating to put all your boiler worries behind you!