Riley Plumbing & Heating, Your Reliable Sewer Cleaning Company
As a homeowner or commercial property owner, you need to be informed about the importance of timely sewer line repair and replacement. Whether you're a young parent in your first home, or you own an office park with multiple buildings, it's critical that you have a dependable sewer cleaning company on speed dial in the event there are problems with the sewer line. Finding a local sewer cleaning company that suits your home or business needs should be your top priority.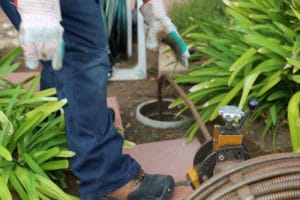 You may not see them, but your sewer lines literally do all of your plumbing system's dirty work. Your sewer lines carry water that contain human, organic, and chemical waste away from your property daily and flow into the municipal sewer, eventually leading the contaminated water to the local water treatment plan. This wastewater contains a wide range of unpleasant viruses, bacteria, and parasitic organisms that can cause serious health problems, among other issues. Properly removing and treating this wastewater is essential for the health of you, your home, and your entire family. And it's certainly not something you want to take chances with.
Features of Our Sewer Line Repair and Replacement Services
Riley Plumbing & Heating is one of the best sewer cleaning companies in the Hartford County, CT area. Our Master Plumbers have extensive experience providing sewer line repair and replacement to home and business owners. Features of our sewer line repair and replacement services include:
Service for backed-up sewers, leaking sewer lines, and other critical problems
Free, itemized, upfront quotes with no hidden costs
Non-invasive diagnostic techniques with

video inspection

Objective advice on whether you need pipe repair or full sewer line replacement
Professional recommendation on whether non-invasive repair techniques such as pipe lining or pipe bursting are an option, or whether an excavation is necessary
Fully licensed, insured, and bonded
Warranties on labor and parts
Benefits of Our Sewer Line Repair and Replacement Services
All the Master Plumbers here at Riley Plumbing & Heating are dedicated to ensuring your property is hygienic and safe for its occupants, regardless of whether it's your home or an office building. Other benefits of choosing us as your go-to sewer cleaning company:
A better functioning sewer system
Stronger, more robust piping and other equipment
No more slow draining or backed-up sinks, showers, bath tubs, or toilets
Improved comfort and hygiene
Increased property value due to an improved sewage system
Quick timeframes and fast, dependable service
Top-rated services at the best possible prices
If you're a property owner in Hartford County, CT, or the surrounding areas and are seeking a dependable and knowledgeable sewer cleaning company, contact Riley Plumbing & Heating. We feature a wide range of services, including plumbing services such as, bathroom plumbing and kitchen plumbing maintenance and repairs, drain cleaning services, or sump pump repair.
For more information on any of our professional services, please call Riley Plumbing & Heating today!