Faucet Repair to Get Things Flowing
As a property owner, you want your home or commercial property to not only look great, but also be in the best condition possible. And while many of us might not realize this at first, the truth is that faucet services and repair play an important role in both of these endeavors.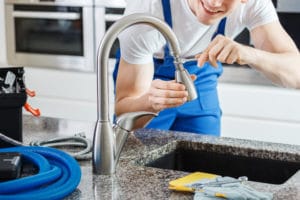 The visual aspect of our homes is hugely important to us—the styles, materials, and colors are all carefully chosen to make our home feel like our own sanctuary. Similarly, a commercial property needs to look modern and functional in order for tenants to want to rent it. That's why it's so important to have faucets and showers that match the style and function of your property. At the same time, those faucets need to be in good working shape. A leaky faucet or one that's broken not only immediately gives a less-than-polished impression, it also adds to your water bill and can cause water damage to your property.
That's why you need a reliable plumber who can help you ensure your property's faucets are in good shape at all times. And while DIY faucet repair and replacement often lead to more problems, investing in professional plumbing work actually protects your property in the long run.
In addition to faucet services, our team also offers:
Features of Our Faucet Services in Hartford County, CT
With all of the different faucet types and designs available, you need a plumber who knows how to repair or replace the leaky faucets you have in your property quickly and cost-effectively. We do that—and more! Features of our faucet services include:
Top-notch advice from experienced plumbers
An array of faucet types and designs for kitchens, bathrooms, and more, including touch-only faucets and high-spout faucets
Cost-effective repairs that can get you the longest possible use out of your faucet
Free, upfront, and transparent pricing
Warranties on parts and labor
Fully licensed, bonded, and insured
Upgrades and green options available
Quick, non-invasive diagnosis of any water damage
Benefits of our Faucet Repair and Replacement Service
When you choose Riley Plumbing & Heating for your faucet services, you're choosing one of the top-rated plumbing companies in the Hartford County, CT area. Benefits of our faucet repair and replacement service include:
Prompt and professional service
Always top-notch work: we don't quit until you're satisfied
But don't take our word for it: simply read the reviews on our website or contact us for referrals from our satisfied customers.
For the best faucet repair and replacement in the Kensington, CT area, contact Riley Plumbing & Heating today!