Bathroom Plumbing Services You Can Count On
One of the best things about living in modern America is that we have modern bathroom plumbing. (Even as recently as 1850, flush toilets weren't standard equipment in homes, can you imagine?) And while we take our toilets, sinks, showers, baths, and even bidets for granted, when something isn't working the way it's supposed to in the bathroom, it can have an impact on our comfort, health, and wallet.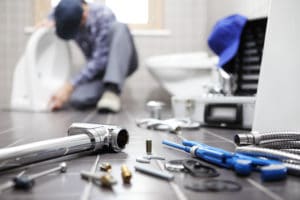 Whether it's a leaky faucet with a constant dripping noise, a shower with low water pressure, or a toilet or drain that's clogged, the timing's never convenient. What's more, unless you're a certified plumber, you really don't want to try to repair the problem yourself. Take it from the professionals: we're all too often called into homes after the homeowner tried to fix a small problem themselves…and actually wound up creating more damage.
However, it's imperative that any bathroom plumbing issues are repaired as soon as possible. If not, you could wind up with not only compromised comfort, but possibly even more serious issues—and that's never a good idea.
Features of Our Bathroom Plumbing Services
Fortunately, if you live in the Kensington or Hartford County, CT area, you can rely on the team here at Riley Plumbing for all your bathroom plumbing service needs, as well as for plumbing services and drain cleaning services. We can help you with everything from new bathroom design to repairing existing plumbing, and everything in between. Features of our bathroom plumbing services include:
Installation, maintenance, repair, and replacement of toilets, faucets, sinks, bath tubs, showers, bidets, digital shower controls, steam generators, whirlpool spas, and exhaust fans
Professional plumbers with full knowledge of all local and state codes
Bathroom design for new construction and remodeling
Objective advice from professionals who've seen it all
Upfront, transparent pricing
Warranties on labor and parts
Universal access knowledge
Benefits of Our Bathroom Plumbing Services in Hartford County, CT
It's our mission to provide top-rated bathroom services to residential and commercial property owners in the Kensington area. Whether you need a bathroom remodel for a third-floor condo, shower upgrades in your commercial gym, or a new toilet installed in your home, we always make sure you get the best possible service. Other benefits of our bathroom plumbing services include:
Quality bathroom furniture, fixtures, and piping equipment
Increased value of your home or commercial property
Annual inspections to proactively prevent big problems from occurring
Increased comfort and hygiene
Increased water- and energy savings
Lower water and energy bills
When it comes to the upkeep of your home's utilities, you need a team you can count on. Don't fall behind when it comes to your bathroom – take care of it with the help of Riley Plumbing.
If you're looking for a proactive plumbing partner who can help you design and maintain your property's bathroom plumbing at the best possible price and with top-rated customer service, contact us by calling the team of Master Plumbers here at Riley Plumbing!