Getting the Most Out of Your Boiler: 5 Ways to Improve Its Efficiency and Save Money on Heating Bills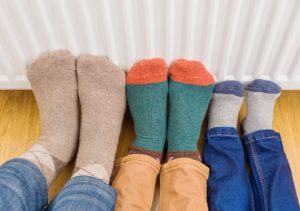 If you rent or own a home, then chances are you know how expensive it can be to maintain warmth inside your house. In fact, as much as 60 percent of your utility bills can be spent on heating your home this year. Now that the cold season has officially arrived, there's more incentive than ever to make sure your heating system is efficient and working at optimum capacity.
At Riley Plumbing & Heating, we don't just provide expert heating repair, replacement, and maintenance services for our customers in and around Kensington, CT. We're also your source for valuable information, like how to get the most out of your boiler and ensure it's working properly. With a few tips, you can improve your boiler's efficiency, keep your home warmer, and even reduce your monthly energy bills.
Use Preset On and Off Times
One of the best ways to use the boiler is to have pre-set times for it to turn off when you go to sleep and back on again just before you wake up. This can prevent unnecessary wasting of energy and money.
Turn It Off Before You Leave
It's much less expensive to keep the boiler switched off when you're out of the house than leaving it on all day at a low temperature. In fact, the notion that you should leave the heat on low all day, even when you're not in the home, is a myth. The best way to save money and stop energy loss is to use a timer.
Turn It Down One Degree
How high is your thermostat set? The recommended ambient temperature for a living room is around 70 degrees Fahrenheit. Try turning down your thermostat one degree to see if you and your family still feel warm enough to be comfortable. This single degree can actually save you money over the season, and even more over the life of your boiler.  
Use Insulation
To make your heating system even more efficient, try putting plastic insulation over your windows. This can be purchased affordably at most home repair or hardware stores, and can help to retain up to 50 percent of the heat lost through old or poorly insulated windows.
Consider a Replacement
If your boiler and heating system is older than ten years, or has required a significant amount of repairs and maintenance, then it might be time for a replacement. At Riley Plumbing & Heating, we feature a knowledgeable staff of friendly and prompt technician who can expertly install a brand new and efficient heating system in your home, keeping you warm and toasty for many winters to come.
To schedule a tune-up or maintenance for your boiler or heating system, call us today at 860-225-1534!