Furnace Services to Warm Your Home
When wintertime arrives, one of the nicest things about the season is cozying up in your living room, putting on some warm slippers, and enjoying the warmth of a well-heated home, protected from the cold winter blowing outside.
Of course, this is all assuming that your home's furnace is functioning and in tip-top shape. On the other hand, a furnace on the fritz is the last thing you and your family need as the season turns colder. If you are ever in need of furnace services or repairs, our team here at Riley Plumbing & Heating is the one to call for all your service requirements.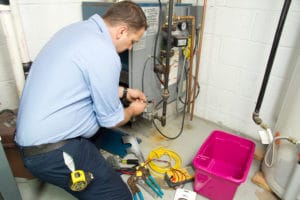 Maintaining a warm home in the winter can be difficult if your furnace is damaged. The thing to keep in mind is to get the repairs for your furnace as soon as problems are noticed. Doing this restricts the problem from growing into a bigger one while also keeping the cost of repairs low. Never try to repair the furnaces yourself; this can be dangerous and quite expensive if you end up adding to the damage that already exists. The best thing to do is call up experts like Riley Plumbing & Heating for heating and furnace service.
In addition to furnace services, our team offers an array of other services including:
Reliable and Clean Furnace Services in Hartford, CT
Technicians at Riley Plumbing & Heating are well trained and have experience in fixing all furnace problems. This is the reason that we are one of the most preferred companies in the area when it comes to furnace services. All our staff are also trained to be courteous and respectful. You will find that they arrive on time and perform any repairs, replacements, and installations without bothering you a bit. They wear shoe covers to keep your home clean and even tidy up the work area when they leave.
Riley Plumbing & Heating also gives you lifetime guarantees on installations. You are also offered 1- to 4-year labor and parts guarantee through the Service Partner Plan. At Riley Plumbing & Heating, we strive to give you 100% satisfaction all the time.
Stay Warm with Our Furnace Services and Repairs!
When it comes to your furnace, you can never be too careful. To get the best furnace repairs, replacements, and installations in Hartford, CT, call Riley Plumbing & Heating today!